Family-Friendly Weddings
Whether you have a large family, or a lot of friends with kids, a lot of brides understand the difficulty that comes with making sure the whole family feels included. There are several classy ways to incorporate activities for the kids who will be at your big celebration, if you're planning to include children at all.
Kids Table
Have a kids table. Take a look at the photo below. This couple had a specific table for kids, and included a small craft that they could complete while their parents sit at a table somewhere close by with the adults. Fill a couple of mason jars (or any other kind of jar) with crayons or markers and let the kids do what they do best: color!
Another option would be to put down kraft paper over the kid's table and let them color on that as they please:
Coloring Books
This couple made coloring books for the kids at their wedding. It is wedding-themed and has information on the bride and groom so that the children have a favor to take with them, as well!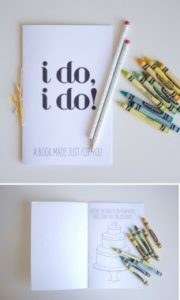 Lawns Games
Lawn games, if you're having an outdoor wedding, might be another option for keeping your kids entertained. This couple had croquet, corn hole, horseshoes and more to keep their kids AND adults happy during the reception.
Milk and Cookies
Have family-friendly foods at your wedding. Make the kids feel like adults by drinking milk from these martini glasses, but add the classic chocolate chip cookie to give them a dessert of their own. But, beware, you may have a few adults wishing you had a few extras for them!
So, there are a few ways to keep your atmosphere family-friendly. At the end of the day, if you want special children in your life at your wedding, you'll find unique ways to include them. We're just here to get you started!