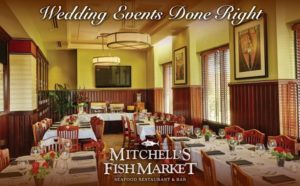 MITCHELL'S FISH MARKET – LIVONIA
Contact:  Marilyn Howard
248.633.4027
17600 Haggerty
Livonia, MI 48152
HIGHLIGHTS
We invite you to discover our fresh seafood obsession at Mitchell's Fish Market where the fish is off the boat fresh, the drinks are made with fresh-squeezed juice & the atmosphere is as warm and inviting as a day on the water.
At Mitchell's Fish Market we are obsessed with fresh seafood—so much so that we pledge that our fish is 100% fresh or it isn't good enough! Come experience our private dining room with its warm and intimate setting—perfect for bridal showers, rehearsal dinners and wedding receptions. Our outstanding food, warm hospitality, and excellent service will help create a memorable dining experience for you and your guests.
Our Private Dining Manager would be delighted to coordinate details that work for your specific needs. Bring your wedding event closer to the coast, at Mitchell's Fish Market in Livonia.
SPECIAL OFFER
Mention Detroit Wedding Day and we will wave corking fee for 1 bottle of wine!
Number of different rooms:   1
Number of affairs at the same time:   1
Separate cocktail area:   No
Room capacity – cocktail reception:   30
Room capacity – dinner reception:  50
Outdoor reception area:  No
Room rental fee:  Food & beverage minimum only
Deposit required:   N/A
Kitchen on premises:  Yes
Must use in-house catering:  Yes
Cuisine:  Steak and season
Kosher:  No 
Pricing for plated meals:  $50 to $60
Price range for strolling dinner: N/A
Gratuity:  22%
Must use in-house liquor:  No
On-site ceremonies:  No
A.V.  equipment available:  Yes
Valet parking:  Yes
Handicap accessible:  Yes
Lounge for bride/groom/bridal parties:   No
Complimentary overnight stay for bride & groom:  No