Gifts For Your Groomsmen
Sometimes, it's really hard to find the perfect gift to give your groomsmen. We have made a list of several popular options that your groomsmen will actually want (and use). Check it out!
1. Hand-stamped tie clips.
Tie clips are
classy to begin with, and if you're going to wear one anyway, you might as well wear one that might actually mean something to you down the road. Many different sellers on Etsy.com, a handmade global marketplace, sell hand-stamped tie clips and offer many different options. Pictured below are personalized tie clips for the groomsmen, but also personalized tie clips for the father of the bride, and the father of the groom. You can't leave out the parents when it comes to gifts, so this might be a good way to kill two birds with one tie clip…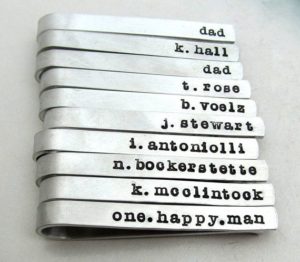 2. Superhero cufflinks.
These have become popular over the last few years. Superhero cufflinks can also be very subtle for the groom who wants to be a little quirky without throwing off the entire decor. Check out this photo:
3. Personalized money clips.
These are very popular as groomsmen gifts, and have been for decades. The classic look and the practicality of this gift make it a staple. What guy doesn't love a stylish, personalized money clip?
4. Personalized bottle openers.
There are a lot of options for this one. And, as far as personalization goes, this is the perfect gift to make sure that your guys receive gifts that reflect their personalities. Check out the photos below. Here we have bullet bottle openers, personalized with either a name or a date, credit-card bottle openers (that can fit in their new money clip!), or classic personalized wooden bottle openers.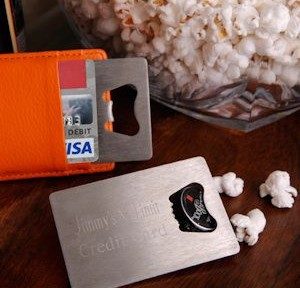 5. Tie or Bowtie
This one can go several different ways. While it's not always the guy who decides to "propose" to his groomsmen, this can be a really nice addition to making your guys feel appreciated. Check it out:
6. The ultimate, male, wedding survival kit.
Maybe you just want to show your guys a good time. This next photo might spark a few ideas for your gift-giving. This box features the tie you'd like your men to wear, suspenders (if applicable), a bottle of whiskey, and a cigar. Now we're talking!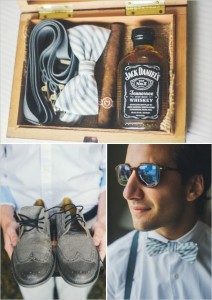 Remember that these are the men who have accepted to stand by your side on the biggest day of your life. Make sure to treat them a little by getting them something that they might actually appreciate.