The Most Beautiful Bouquets!
There are many different options when it comes to picking your bouquet. And, let's be fair, it can be very hard to choose the perfect one. What do you want to be in all of your pictures? The bouquet is a big choice. We've narrowed down a few options we think you might want to consider before settling on one. Check it out.
Broaches.
This is a trend that has been in the works for a few years, and has gained popularity since. A lot of brides choose to make this option extremely personal by adding broaches that various generations of family members have given. If your great grandma, grandma, or your mom have a collection of heirlooms like broaches, it could be a great way to incorporate family ties into your wedding day. Even if you don't have the family aspect, broaches can add color just as much as any floral bouquet can.
Pinecones
This next one was new to us. If you're having a fall or winter wedding, this may be a very beautiful option to consider. We look at pinecones and we don't necessarily equate them with beauty. However, putting them in a bouquet certainly does make a statement! Preserving this one would be a breeze, too.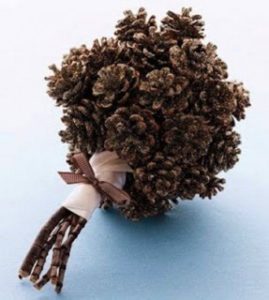 Giant Tissue Paper Flowers
Four words: Giant Tissue Paper Flowers. Yep, you heard me. This may seem completely impractical, but this bride pulled it off impeccably. There are plenty of DIY tips on how to make these on Pinterest and other blogs, as well, if you're interested! Of course, they don't have to be this hot pink/magenta color – they can match your color scheme instead!
Fabric Bouquet
One bouquet that is making a statement when it comes to wedding trends is the fabric bouquet. Usually, it is all one flower made from fabric. These are beautiful and can be perfect against your gown. Providing a classy and an elegant touch, the greenery behind the off-white fabric flower really does set it off.
Book Paper Flowers
Just like we said with the boutonnieres, book paper flowers are making a comeback. Of course, if you and your fiance are musicians, you might opt for sheet music or something else. These flowers are versatile, everlasting, and don't require water!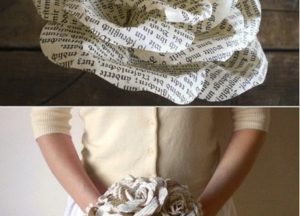 Of course, you could always go with colored paper to make your bouquet stand out, as well. Check this bouquet out:
Traditional Floral Bouquet
Finally, there is absolutely no way you can go wrong with the traditional floral bouquet. There are ways to make some of the most beautiful arrangements for your big day. In fact, some brides choose to incorporate real flowers with something like cotton stems. Or ribbon throughout. The possibilities are endless, but it's hard to beat the timelessness of a floral bouquet.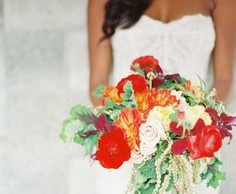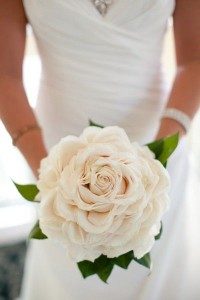 No matter what you pick, we know your day will be stunning. There are just a few of the options available for unique and beautiful bouquets.