Unique Centerpieces
There are plenty of unique centerpiece ideas for your reception. We have five that we want to highlight today that you might want to take advantage of if you're hard-pressed to find something you love.
1. A Booklet.
This one may need to be accompanied by something else. But, as far as table numbers go, this one provides a unique alternative to a simple table number. Have fun questions that incorporate the table number on a notepad of some sort (obviously not a legal pad or anything, but you see where we're going). Your guests will be able to leave you cute messages regarding the question. In the example below, the saying is, "Leave a message for Adam and Kasey to read on their nine-year wedding anniversary." How cute is that?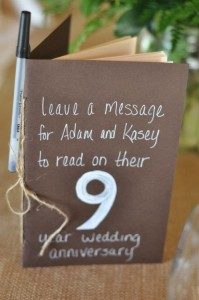 2. The Classic: Floral Arrangements.
From simple, classic arrangements that fit in a mason jar to large bouquets fit for a cherry-crate, floral arrangements can be the perfect addition to any table. If you are a flower lover, or you're getting married in June (where most flowers are at their peak), this might be the perfect option for you. Check out these photos of various options for floral arrangements:
3. Books.
This one is not something that many people think of when they're talking about centerpieces. But, like the photo below shows, books can actually provide a beautiful alternative to other traditional centerpieces. If you're looking for a centerpiece that doesn't take up a lot of space, and isn't so high that guests across the table from each other can't converse, consider placing a few vintage novels on your table!
4. Lanterns.
Lanterns give a very classic look. And the great thing about them is that they come in all shapes and sizes. You can either light them with candles, or leave them as they are, which gives them that versatile look. This couple did a beautiful job decorating with lanterns at their reception:
5. Board Games.
This one is a little off-the-wall, but it is becoming more and more popular – especially for outdoor weddings. Many of our vendors, in fact, have seen board-game centerpieces. Some couples use the names of various board games to name their tables instead of using simple table numbers. No matter which way you take this idea, your guests will find it unique and they may even enjoy playing the games while they wait for your big entrance!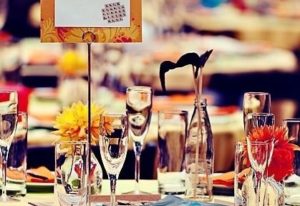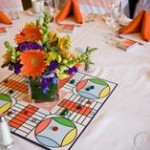 So, no matter what you pick, we know that your centerpieces will match your day perfectly. Maybe you'll even take a few of our suggestions!