Who Says You Can't Play With Your Food?
Sometimes, out-of-the-ordinary food choices for your wedding day are a good idea. We thought we'd spend some time today telling you about a few adorable ideas we've seen recently that we would love our brides to try!
1. Grilled Cheese Sandwiches with Tomato Soup Shooters
Check this one out. This couple had the classed grilled cheese sandwich with tomato soup, but made the meal into an appealing appetizer that is almost too cute to eat!
2. Popcorn.
Popcorn has become increasingly popular at weddings – especially in this "popcorn bar" style. This particular bar features different seasonings guests can add to their bowl, as well as the complete rustic look.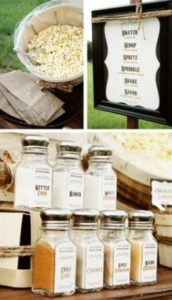 3. Brunch, anyone?
Brunch-time weddings can be a fun alternative, and the menus can include fun foods like waffles, fruit cups, quiches, bacon and more!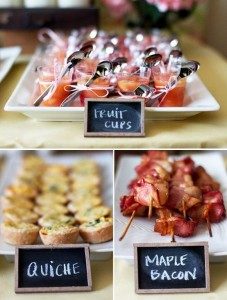 4. Food trucks.
Yep, you heard right. Have you ever thought about incorporating a food truck into your big day? Well maybe you will after you see this. Many food trucks in your area have the capability of catering your wedding – from their truck that can be brought on-site. Though there are a few stipulations with some venues, and you'll have to do your research, they make adorable additions to any wedding day: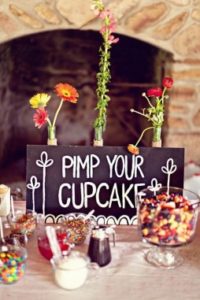 5. The Classic: Milk and Cookies.
Here's an alternative to your dessert plans: the chocolate chip cookie. We've also seen it done where the couple offers this to the children at their wedding. Either way, you can't go wrong with a warm, homemade cookie. This wedding certainly didn't think so: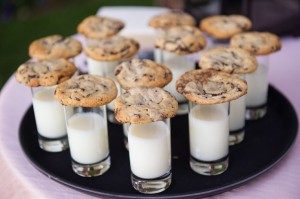 6. Fresh Fruit.
There's nothing like adding a little color to your food table with fresh fruit. Pick an in-season berry to add if it fits the rest of your menu. Some guests may even enjoy having a healthy alternative to snack on as they wait for you to make your big entrance at the reception.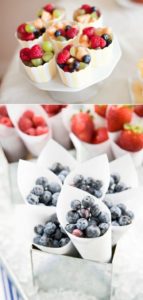 7. Mini Shrimp Cocktail.
These miniature shrimp cocktails are adorable. They're the perfect amount for your guests as appetizers.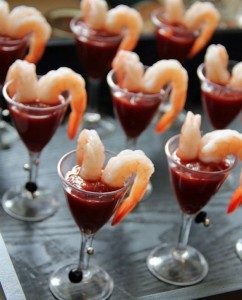 8. Gourmet Pizza.
This is the perfect idea if you have a "best-pizza-in-town" location that caters. If you're having a simple, outdoor wedding, and you love pizza, try finding a gourmet pizza provider that uses fresh, local ingredients. It may even give your guests from out of town a look into what your city/town has to offer.